Interactive step-by-step learning system.

4 chapters; 15 lessons; 338 screens; more then 300 animated context hint; more then 200 exercises; 100 demos; 4 hrs of sound.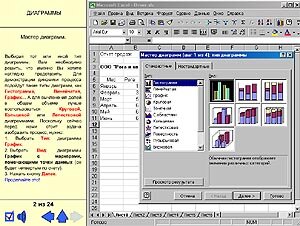 The last screen of every screen is a conspectus, where in short terms explaining the contents of previous screens.
By results of testing the evaluation is exhibited, and also recommendation of the program - to study further or to repeat last lesson once again.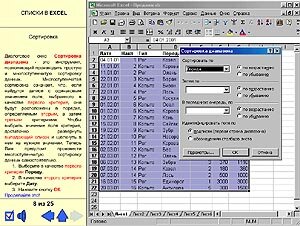 This program is distinguished by such features, as

Magnificent emulation of a Excel 2000 environment.

Methodical development, ensuring the easiest and fastest way of mastering of a material;

Familiarity to the user, who is all the time of the learning process is enclosed by care and attention of the developers.


Minimal system requirements: Pentium 200 mHz processor, 16 Mb RAM, OS Windows 95/98/2000, screen resolution 800x600x16 bit color depth, 4-speed CD-ROM, sound card, and mouse.

The exclusive right to distribution of tis program has the company "Новый Диск".

Distributor is a "Новый Диск" company.