Cities are like people, every city has its own face, character, its destiny; you can make friends with a city like you do with a man. All you need for it, is to make acquaintance with it... and to fall in love.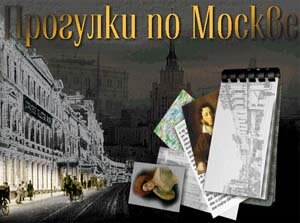 WALKING ABOUT MOSCOW is neither an encyclopedia nor a guide - it is much more than that! It is an invitation to a marvelous trip. You will travel there accompanied by Sergei Sokurenko - the journalist from the 'Echo of Moscow' radio.

Have you ever been on the Ivanovskaya Hill?..
The present and the past, history and culture, people and buildings of the Russian capital - over 1000 illustrations used in the 20 excursions that create a full and multi-colored image of Moscow.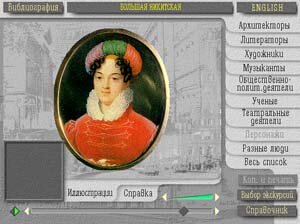 Do you remember that Moscow is inhabited not only by real people but also by literary personages?
Listening to the interesting narration of the author and contemplating the illustrations, you can make wonderful walks around Moscow. Every person and illustration is supplied by a detailed reference.

Do you imagine the appearance of Aristotle Fioravanti? Do you know what made the dance master Iogel famous?..
All the same, an information block is necessary for such a project, and a small encyclopedia is included in it. Over 500 personal references, supplementary information on each of more than 800 illustration, the opportunity to copy and print the texts are not only a very interesting but also a rather useful part of the program.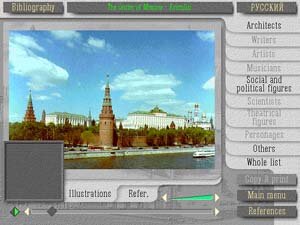 Have you ever been embarrassed when choosing a souvenir of Russia for your foreign friends? The traditional 'matryoshka' dolls don't speak English! The possibility to switch our program over from Russian to English version is a brilliant occasion to introduce Moscow to your foreign guests and partners; you may also use for some language practice, reading references from the information part.


Are you fond of taking photos in your trips, family feasts or just walks? The places of interest and the corners of Moscow of your personal preference, interesting events - you can unite it in an excursion of your own - there is a special tool for its creation.

The bilingual disk WALKING ABOUT MOSCOW contains:

20 interesting excursions

a convenient navigation system

over 800 personal references

over 1000 illustrations; each of them is supplied by a text reference

all the information is logically systematized

a huge amount of hypertext references

all the information in both languages - English and Russian

the English soundtrack version, recorded by a native speaker of English

the option of switching the program over from English into Russian and vice versa in any place of the program

full text search system

copy and print tools for the texts

a special option permitting you to create the excursions of your own using a simple tool.

The disk can be interesting for many users, useful for schoolchildren (helping them to study the history of Moscow, literature, history in general, English), students of humanitarian specialties... It is also a wonderful present for your foreign guests and partners - as well as to anybody who is fond of history and nowadays life of Moscow.

System requirements:
IBM PC 486DX2x66, RAM 8 Mb, SVGA 640x480x256 colors, Windows 3.11 or higher, CD-ROM drive, mouse, 16-bit sound card.