1. SOVIET SPACE PROGRAM/РУССКИЕ В КОСМОСЕ
2. DIVO (WONDER)
3. MEET RUSSIA
A multimedia encyclopedia of Russian space program in English and Russian contains unique information about Russian space research programs that is not well known and that was secret until recently.
The history of space exploration is beginning from Tsiolkovsky and first rockets to the modern cosmic programs. Unique information on people whose names were kept in top secret, on the technique that was also a state secret. Over 500 illustrations and 50 video fragments, some of which are also unique.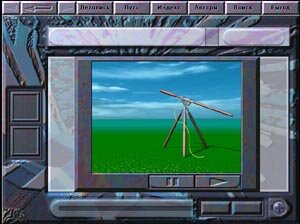 This thematic multimedia encyclopedia has no analogs.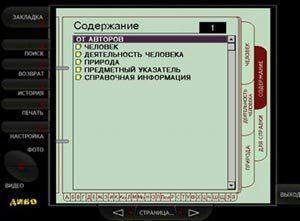 Electronic version of the book of wonders, records and achievements 'Divo' (analog of Guinness Book for the States of the ex-USSR).
A great multitude of information about all the unusual and surprising in nature, society and human activity; illustrations and video fragments - 1200 articles with hypertext references, 40 minutes of video, over 300 illustrations. A powerful search system and the possibility to mark the necessary articles permit not to lose your way in this ocean of information. All the texts can be printed.