Interactive step-by-step learning system.

6 chapters; 24 lessons; 466 screens; 361 context hint; 292 exercises; 90 demos; 5 hrs of sound.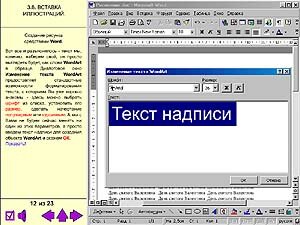 The last screen of every screen is a conspectus, where in short terms explaining the contents of previous screens.
By results of testing the evaluation is exhibited, and also recommendation of the program - to study further or to repeat last lesson once again.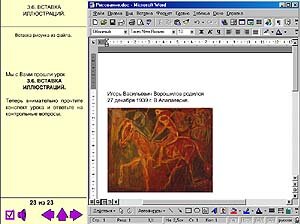 This program is distinguished by such features, as

Magnificent emulation of a Word 2000 environment.

Methodical development, ensuring the easiest and fastest way of mastering of a material;

Familiarity to the user, who is all the time of the learning process is enclosed by care and attention of the developers.

After the MICROSOFT WORD 2000 TUTORIAL the tutorials of all the others programs of the MICROSOFT OFFICE will be developed. First in a line will be EXCEL and OUTLOOK.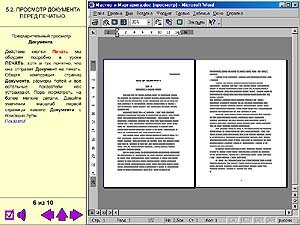 Minimal system requirements: Pentium 100, 16 Mb Ram, OS Windows 9х, Video 800x600 High Color, 8xCD-Rom, 16-bit Sound Card.

The exclusive right to distribution of tis program has the company "Новый Диск".

Distributor is a "Новый Диск" company.